This month our theme for the NYLA Blog is:
What issue are you most passionate about right now as a leader?
I am excited to share what I am most passionate about – my leadership 'Spark!'.
I fight for many causes and this is one of them:
I was in class earlier and watched an old film from 1983 called "The Four Corners: A National Sacrifice Area?" (more info below and you can watch a clip here).
It just made me mad to think about how our people and leaders from that time took money in exchange for the coal, uranium, the water (our aquifers).  The reason our president at the time gives is "ECONOMIC" reasons.  All I see is greed.  Greed in the Energy companies, greed in our council men and president!
We need to start taking care of the land!!
It's up to us young people to remember our roots                                                                                                and become self-sustaining through our cultural teachings again.
Planting and raising sheep sound good to me!  Nothing wrong with it, who wants to live in a world                        where there is no water or plants??? NOT ME!
Our people and our communities are suffering now too because so many people have cancer from the uranium and the abandoned open mines.  We need our older generations to live and to have their health. I don't want my sons growing up in a toxic environment because our leaders made decisions based on greed decades ago.
I remember when I was young, growing up in the Hogan, there were many more trees, plants, cactus fruit, locusts, birds even. When we went pinon picking with my grandmother, she used to say always save some for the birds.
Her teaching was that we need to value our whole environment and even share with the birds.  We live with them in this world, as with all living things. We need to have respect for everything!!
See Terra Harvey's NYLA Profile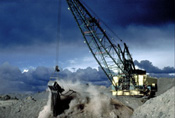 The film I saw in class:
Four Corners documents the cultural and ecological impacts of coal stripmining, uranium mining and oil shale development in Utah, Colorado, New Mexico and Arizona – homeland of the Hopi and Navajo. It examines Peabody Coal Company's massive Black Mesa stripmine and the history of uranium mining on the Colorado Plateau, including the 1979 Church Rock tailings spill on the Navajo Reservation, where high levels of lung cancer and birth defects have resulted from decades of radiation exposure. The film challenges the U.S. government policy of locating destructive energy projects in remote "national sacrifice areas" and illustrates serious "environmental justice" issues ten years before that term was coined. Concluding that the extraction of coal and uranium involves huge hidden costs, Four Corners argues for development of alternative energy from solar and wind along with a major conservation initiative.